Meet Kim Muir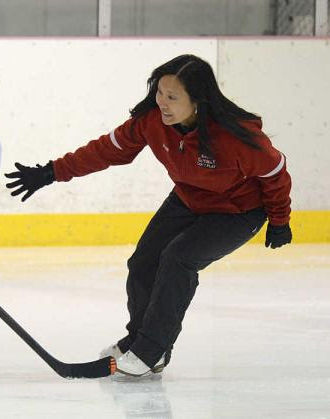 Started teaching power skating in 1990.
National Competitor with the United States Figure Skating Association
Duel Bachelors degrees from Lake Superior State
Masters in Science from Wayne State
M.A. in Educational Leadership from EMU
One of three women to do a backflip on the ice.
From Kim Muir:
"I was found on the streets of Seoul, South Korea when I was 6 months old, next to a trash can. I lived in an orphanage for the first 4 years of my life, as a "Jane Doe". I was blessed and lucky to be adopted by my American parents, who wanted a girl and didn't care about the color of my skin, religion, etc. I grew up in Trenton, Michigan, where boys played hockey and girls skated in the Trenton Ice Show. I had two older brothers that played hockey. My father and others started the Trenton Hockey Association. The verbiage, vernacular, and conversations at our kitchen table was always about hockey. I thought I was supposed to play. My father, hegemonic, that girls are to figure skate, had me start when I was five. No regrets, I spent eight years as a National Competitor with the United States Figure Skating Association. When I was fifteen, a hockey coach saw me skate. He told me I had to teach his twins, Tony and Brad Zancanaro, how to skate better for their game. I went from two students to two hundred students in six months. Later, Tony and Brad were Captains of their respective D1 teams and both made it to the AHL at 5'5". My parents told me this was a fad, that I had to focus on my education (I had aspirations of being a doctor). I attended Lake Superior State University and received two Bachelors: B.S. Biology and B.S. Chemistry. While I was there, I worked with Lake State, Sault Ste. Marie of the Ontario Hockey Association, and the OHL's' Sault Greyhounds. I then got certified in Medical Technology, ASCP, before going to Wayne State for a Masters in Science, to become a Physician Assistant. My hockey schedule got in the way of working, so I decided to change professions and attend Eastern Michigan University and received an M.A. in Educational Leadership and taught high school Biology, Chemistry, Math, and Physics. In 1997, Peter DeBoer hired me to be the skating coach for the Plymouth Whalers of the OHL. It would be the first of many professional hockey teams, coaches, and players that I'd work with. I currently have over 100 students in all levels of elite hockey, including the NHL, AHL, ECHL, CHL, NCAA, USHL, NAHL, and many more."